Affiliated Faculty & Staff
Executive Director: Dimitrios Nikolaou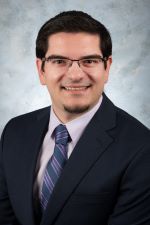 Dimitrios Nikolaou is the Executive Director of the Institute for Regulatory Policy Studies, the Chairperson of the Department of Economics, and a Professor of Economics at Illinois State University. He received his Ph.D. in Economics from the Department of Economics at The Ohio State University. During his tenure at Illinois State, Dr. Nikolaou has made significant contributions to research, teaching, and service. His primary research is within applied microeconomics with fields of specialization in Health Economics, Economics of Education, and Labor Economics. As a prolific scholar, he published 14 peer-reviewed publications in leading economics journals (e.g., Journal of Health Economics, Oxford Bulletin of Economics and Statistics, Health Economics, Contemporary Economy Policy, Southern Economic Journal, Applied Economics), including nine solo-authored articles. The department recognized his scholarly contributions through the Scott M. Elliott Faculty Excellence Award in 2017, 2020, and 2023. Dr. Nikolaou also received the 2022 John A. Dossey Award for Outstanding Teaching, the highest honor bestowed upon a tenured faculty member by the College of Arts and Sciences. His extensive experience leading committees and contributing to shared governance led to the 2018-19 University Service Initiative Award, the 2021 Redbirds RISE to the COVID Challenge Award, and the 2022-23 Outstanding College Service Award. He has also been selected to join the 2019-20 Leadership Initiative Cohort. Most recently, he has been accepted into the 2023-24 Multicultural Leadership Program. Through this highly selective program, Dr. Nikolaou collaborates with local leaders and partners to further develop authentic relationships and foster diverse and inclusive perspectives in the community.   Email: dnikola@ilstu.edu.
Director of Outreach and Research: German Blanco Lobo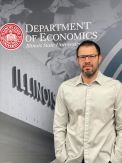 German Blanco is the Director of Outreach and Research for the Institute for Regulatory Policy Studies and an Associate Professor in the Department of Economics at Illinois State University. He joined the faculty at Illinois State in 2013 right after completing his Ph.D. studies from the State University of New York at Binghamton. Dr. Blanco's research interests include Labor Economics, Applied Econometrics, and the Econometrics of Program Evaluation. His most notable work appears in the Journal of Business and Economic Statistics, the Journal of Human Resources, the American Economic Review Papers and Proceedings, and the Journal of Productivity Analysis. His work on active labor market programs, including job training for youth, has been presented nationally, e.g., Society of Labor Economists, and the Midwest Econometrics Group, and internationally, e.g., University of Luxembourg, the Luxembourg Institute for Socio-Economic Research, and the Institute for the Study of Labor (IZA) at Bonn, Germany. Dr. Blanco has served as a professional referee for the Journal of Business and Economic Statistics, Journal of Applied Econometrics, Industrial and Labor Relations Review, Journal of Labor Research and for the Social Sciences and Humanities Research Council (Canada), among others. Email: gblanco@ilstu.edu.